Quoins Hangers
Quoins hangers voor munten bestellen.
Combineer met je Quoins hangers je favoriete set met munthangers, disks en kettingen. Quoins munten hangers: de trend van nu! Hangers, Munten en Coins: Quoins is de goede kwaliteit! Quoins muntenhangers in edelstaal met zirkonia steentjes in de rand. Munthouders Quoins online leverbaar. Quoins hangers bestel je snel bij de Quoins Juwelier online. JuweliersWebshop.nl is officieel Quoins dealer.
Quoins Hangers bij JuweliersWebshop.nl - Nu GRATIS* verzending in NEDERLAND! *= vanaf € 49,- per bestelling.
Artikel 1 tot 20 (van de 20 artikelen). Resultaat: 1
Artikel 1 tot 20 (van de 20 artikelen). Resultaat: 1
QUOINS munten hangers
JuweliersWebshop heeft veel keus in verschillende stijlen munten sieraden online leverbaar. Quoins sieraden online. Vele modellen QUOINS munten hangers en munthouders in verschillende materialen en kleuren.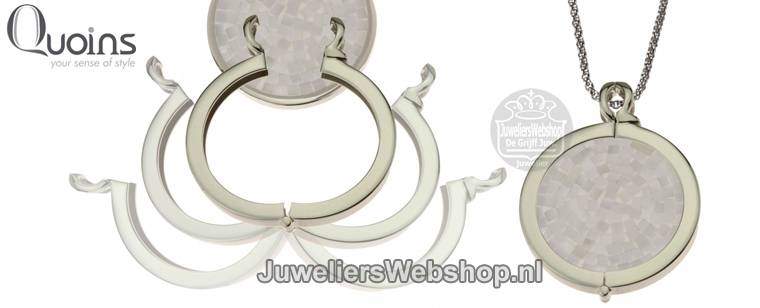 Quoins sieraden en munten:
- Kies je favoriete Quoins hanger en combineer met Munten, hangers en kettingen in 3 kleuren: zilver, geelgoud of roségoud gekleurd.
- Hangers zijn draagbaar aan beide kanten
- Munten en hangers in 3 maten: small, medium en large
- Kettingen in 6 lengtes van 45 cm tot en met 90 cm
- Munten en disks in vele uitvoeringen en kleuren, eenvoudig te verwisselen
- Zeer veel combinaties mogelijk in trendy kleuren en natuurlijke materialen.
Ontdek de unieke mogelijkheden van Quoins Sieraden
De sterke Quoins kettingen zijn van een uitstekende kwaliteit en je kunt er één of meerdere Quoins hangers aan dragen. Veel vrouwen dragen de hangers per twee aan een lange ketting. Deze is er in zes lengtes tot 100 cm! De Quoins munten en disks staan ook heel mooi op verschillende lengtes; een lange en een korte ketting vlak boven elkaar. Of kies voor een combinatie van verschillende kleuren; een echte blikvanger! Personaliseer je Quoins ketting en pas je hanger aan, draag 'm ook eens dubbelzijdig en creëer steeds weer een nieuwe look die past bij jouw stemming of je outfit. Zo maak je steeds weer een nieuw Quoins sieraad! Kun je op onze JuweliersWebshop.nl geen keuze maken? Kom dan gezellig langs in een van onze winkels!
Quoins Hangers bij Juwelierswebshop.nl - Nu GRATIS* verzending in NEDERLAND! *= vanaf € 49,- per bestelling.