Ania Haie
Ontdek de nieuwe, hippe en trendy sieraden: Ania Haie
Ania Haie, is een London-based trendy sieradenmerk. Ania Haie vertaalt de laatste modetrends naar sieraden en brengt zes keer per jaar nieuwe thema's uit om het gehele jaar on trend te zijn! De sieraden zijn allemaal gemaakt van echt zilver 925. De afwerkingen zijn afhankelijk van de gewenste kleuren: zilver gerhodineerd, gold plated of rosegold plated. Ontdek ook het nieuwe, hippe en trendy merk: Ania Haie sieraden met betaalbare armbanden, colliers, oorbellen en ringen.
Ania Haie sieraden: Binnenkort online te bestellen bij JuweliersWebshop.nl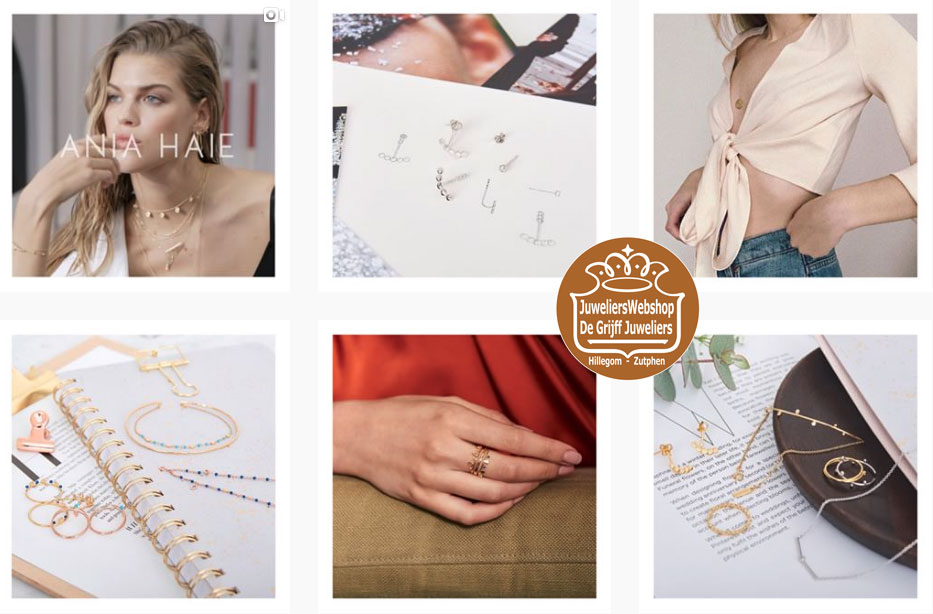 Ania Haie sieraden
Op onze instagram pagina houden wij jullie op de hoogte zodra de Ania Haie sieraden leverbaar zijn. Wij zijn zeer benieuwd naar de verschillende modellen armbanden, oorbellen en ringen. Alle sieraden van Ania Haie zijn uitgevoerd in verschillende kleuren: zilver, goud of rosé. De basis is altijd echt zilver. Maak een statement met de mooie oorbellen. Het is dit seizoen de must-have met een chique twist.
Binnenkort online bestellen bij officieel dealer en verkooppunt JuweliersWebshop.nl.
Bekijk hier de video met Ania Haie bracelets - earrings - rings - jewelry
Kun je op onze JuweliersWebshop.nl nog geen keuze maken? Kom dan gezellig langs in onze winkel: Juwelier de Grijff in Zutphen!