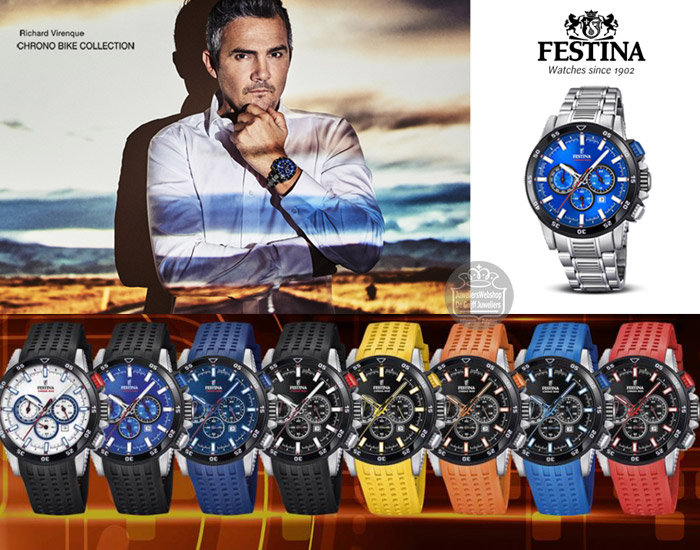 Festina Chrono Bike
Festina horloges Chrono Bike
Festina Chrono Bike horloges zijn ontstaan en geïnspireerd door de wielersport. Bekijk de nieuwe Festina horloges Chrono Bike 2017. Festina Watches heeft de afgelopen 25 jaar bij de grootste wielren klassiekers de tijdwaarneming verzorgd. Zo heeft Festina als Official Timekeeper de tijden weergegeven van Le Tour de France, Giro d'Italia, La Vuelta en andere Tours. De Festina Chrono Bike collectie is de opvolger van de bekende Festina Tour de France horlogelijn. Echte wielren horloges met een sterke link met de WORLD OF CYCLING. De fiets details zijn subtiel terug te vinden in de serie van Festina CHRONO BIKE 2017. De CHRONO BIKE horloges zijn uiteraard leverbaar in verschillende kleuren en uitvoeringen. Bekijk ook de Festina Chrono Bike Special Edition 2017 Chronograph.
Bestel online Festina Chrono Bike horloges bij officieel dealer JuweliersWebshop.nl
Chrono Bike horloges van Festina met Gratis verzekerde verzending in NL.
Artikel 1 tot 16 (van de 16 artikelen). Resultaat: 1
Artikel 1 tot 16 (van de 16 artikelen). Resultaat: 1
Chrono Bike horloges van FESTINA
De Festina Chrono Bike horloges zijn de opvolgers in 2017 van de Festina Tour de France horloges.


Bekijk ook de video van de Festina Chrono Bike 2016
Festina Tour de France horloges
Festina wielren horloges geinspireerd door de proffesionele wielrensport.
De namen Festina en wielrensport worden vaak in één adem genoemd. Niet zo gek, want het horlogemerk was al sinds het begin van de jaren negentig officieel tijdmeter van de Tour de France, Giro d'Italia en La Vuelta. Er bestond al een professionele wielerploeg met de naam Festina en daarnaast was Festina ook nog officieel sponsor van de Tour de France.
Festina ChronoBike
Ieder jaar wordt een speciale Festina collectie uitgebracht onder de naam ChronoBike. Deze horlogeserie bestaat uit een reeks chronografen geïnspireerd op de wereldberoemde wielerrondes. Ieder jaar worden nieuwe ontwerp-elementen toegevoegd aan de reeks. Zo zagen we bijvoorbeeld fiets onderdelen verwerkt in de schakelbanden als subtiele knipoog naar een fietsketting en drukknoppen die refereren aan pedealen of versnellingsschakelaars. De Festina Chronobike horloges worden geleverd in een exclusieve CHRONO BIKE horloge-box. Kenmerkend voor de Chrono Bike horloges is het gebruik van luxe materialen en sportieve functies zoals de chronograaf.
Benieuwd naar de nieuwe bijzondere Festina ChronoBike Tour de France horloges? Bekijk hier de nieuwe modellen Chrono Bike 2017.

Festina horloges CHRONO BIKE 2017 serie.