Boccia Titanium horloges
Boccia titanium horloges zijn gemaakt van super licht en super sterk titanium. Alle Boccia horloges zijn allergie-vrij. Het metaal Titanium is volledig anti allergisch en is hierdoor voor iedereen die huidproblemen heeft met het dragen van horloges of sieraden vanwege zijn allergie de beste oplossing. Het wordt daarom dus ook in de medische wereld veel gebruikt. De titanium horloges en sieraden zijn in de eerste plaats erg mooi ontworpen en dragen lekker licht in gewicht. Maak een keuze uit de Boccia herenhorloges en Boccia dameshorloges en geniet van het Italiaanse design.
Boccia horloges Titanium voor dames en heren
Bestel Boccia horloges online bij officieel dealer met garantie voor scherpe prijzen.
Boccia horloges Titanium - Gratis verzekerde verzending in Nederland!
​
Boccia titanium horloge
Ieder Boccia horloge bestaat uit super licht titanium. Boccia, het nummer ONE merk op het gebied van Titanium.
Boccia Titanium is volledig anti-allergisch en is voor iedereen die gevoelig is voor allergie bij het dragen van sieraden en horloges de perfecte oplossing. Titanium wordt door deze eigenschappen zelfs in de medische wereld regelmatig toegepast. Het materiaal titanium is zeer sterk, extreem licht en is bestand tegen zout, water, zweet en zuren. Het draagcomfort van uw Boccia horloge is door gebruik te maken van het metaal titanium enorm prettig. Het design van ieder Boccia horloge is strak, eigentijds en innovatief. Echter, de basis is altijd Titanium! Boccia horloges voor dames en heren. Boccia is licht in gewicht en allergie vrij. Ervaar het gemak van Boccia titanium horloges bij officieel dealer en verkooppunt met twee jaar garantie en gratis verzending.
Juwelierswebshop.nl is officieel dealer van Boccia dameshorloges en herenhorloges in Titanium.
Boccia titanium horloges - Gratis verzekerde verzending in Nederland !
Video van het merk Boccia: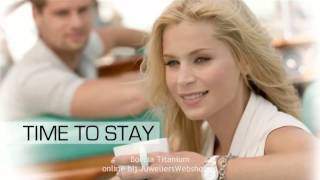 De BOCCIA-collectie bestaat uit horloges en sieraden zowel voor dames als voor heren. De BOCCIA designs zijn strak, eigentijds en innovatief.
Titanium horloges en sieraden van Boccia
BOCCIA staat voor vakmanschap in puur titanium. Puur titanium is titaan met een zuiverheidgehalte tussen 99% en 99,7%. Titanium is bijzonder huidvriendelijk en daarnaast ook extreem duurzaam vanwege zijn lichtheid. Alle BOCCIA-horloges en BOCCIA-sieraden worden uitsluitend van nikkelvrij puur titanium vervaardigd. Alhoewel dit lichte materiaal relatief veel op aarde voorkomt is de winning ervan zeer gecompliceerd en kostbaar. BOCCIA is specialist in het bewerken van dit moeilijke materiaal. De BOCCIA designs zijn strak, eigentijds en innovatief. De BOCCIA collectie is er in combinatie met goud, keramiek, leer of volledig titanium waardoor BOCCIA sieraden en BOCCIA horloges een luxe uitstraling krijgen.
Officieel dealer Titanium Boccia dameshorloges en herenhorloges
The Feel Good Factor - BOCCIA Titanium Horloges.
Hazelnootbruin, warm grijs, olijfgroen en blauw zijn de kleuren van de nieuwe dameshorloges van BOCCIA TITANIUM. Horloges die garant staan voor the feel good factor. De modellen zijn elegant en vallen comfortabel om de pols. Bijpassende horlogebanden van fijn Italiaans leer zorgen voor de finishing touch van de mooie, elegante look. Het is zonde om deze trendy horloges te verbergen onder je kleding. Ervaar ook het gemak van deze anti-allergische en super lichte horloges. De nieuwe modellen voldoen aan de traditionele kwaliteitsnorm van BOCCIA TITANIUM. Puur titanium zorgt ervoor dat alle horloges sterk, huidvriendelijk en licht in gewicht zijn. Door het internationale trendy design zullen deze Boccia horloges favoriete accessoires voor bij je outfit zijn.
Informatie over Boccia Titanium horloges
De horloges zijn allemaal voorzien van een quartz uurwerk met batterij. De metalen horlogebanden zijn eenvoudig op maat af te stellen voor jouw polsmaat. Alle horloges van BOCCIA TITANIUM worden geleverd met een garantie van 2 jaar. Bestel bij JuweliersWebshop.nl je Boccia horloge van Titanium. Gratis verzekerde verzending in Nederland. Betaal je bestelling veilig met Ideal, creditcard of betaal achteraf via Afterpay.