Veilig online horloges en sieraden betalen bij JuweliersWebshop.nl

JuweliersWebshop.nl, sieraden- en horlogewebshop de Grijff juweliers, heeft de betrouwbaarheid van het online bestel- en afrekenproces hoog in het vaandel staan. Vandaar dat JuweliersWebshop de betalingsproviders Pay.nl en AfterPay heeft als financieel partner om uw betaling veilig online te verzorgen.
 
Bij JuweliersWebshop.nl heeft u de keuze uit de volgende officiële en beveiligde betaalmethodes :
| | | |
| --- | --- | --- |
| 1 | - IDEAL | Alleen binnen Nederland |
| 2   | - Overboeking per bank | Zelf overboeken via telebankieren |
| 3 | - AfterPay | Achteraf betalen per acceptgiro |
| 4 | - Credit Card | Voor Mastercard of Visa |
| 5 | - Contant bij afhalen | In onze winkel Juwelier de Grijff Hillegom |
| 6 | - Mister Cash | Alleen voor klanten vanuit België |
| | | |
Pay.nl zorgt dat alle transacties op een vertrouwelijke en bovendien zeer veilige manier aan de administratie van JuweliersWebshop.nl worden doorgegeven.
Voor meer informatie over Pay.nl

- iDEAL (alleen binnen Nederland)
Met iDEAL kunt U vertrouwd, veilig en gemakkelijk je online aankopen afrekenen.
Reken af in de vertrouwde internet betaalomgeving, op basis van specifieke beveiligingsmethodes van uw eigen bank.
Via telebankieren kunt u direct gebruik maken van Ideal, zonder dat u zich daarvoor hoeft aan te melden.
Bij betaling per IDEAL is verzending vanaf € 49,-- GRATIS. (alleen in Nederland!)

 
- Overboeking per bank (zelf overboeken)
U maakt het verschuldigde bedrag zelf naar ons over.
Dit kunt u doen op de 'oude' manier. U ontvangt van ons in de bevestiging uw ordernummer en onze bankgegevens. 
Indien gekozen wordt voor de betaalmethode 'Zelf overboeken' dan doet u de betaling zelfstandig, via tele/ internetbankieren. Meer informatie vind u in de bevestiging per e-mail.
Afhankelijk van de verwerking bij uw bank en het land waar u woont, kunnen er enkele dagen overheen gaan voordat wij uw betaling ontvangen.
                               

- T.n.v
: Juwelierswebshop -de Grijff
- Te
: Zutphen, Nederland
- Bankrekeningnr.
: IBAN: NL15Rabo0300901933

SVP: Onder vermelding van uw bestel/ordernummer.
 

For international payments:

Bank account nr: IBAN: NL15Rabo0300 901 933


Swift-Code: RABONL2U
Rabo-Bank, Zutphen, The Netherlands.
- AfterPay (Achteraf betalen per acceptgiro) 

 

Voor het aanmaken en verwerken van de betalingen na ontvangst van uw bestelling (op rekening) werkt JuweliersWebshop.nl, webshop de Grijff Juweliers, samen met AfterPay. AfterPay neemt de betalingen over van JuweliersWebshop.nl en zorgt voor het vervolgtraject. Hieronder leest u meer over AfterPay.
 

Met digitale acceptgiro uw online bestelling betalen via AfterPay 

Met AfterPay kunt u veilig en gemakkelijk met de bekende acceptgiro betalen na ontvangst van het door u bestelde product. AfterPay maakt gebruik van de papieren acceptgiro of een digitale acceptgiro die u per mail of app van Afterpay ontvangt.

AfterPay voert voor www.JuweliersWebshop.nl het volledige achteraf betaalproces uit. Dit betekent dat u een digitale acceptgiro van AfterPay per e-mail ontvangt om door u gekochte product(en) te betalen. U kunt uw bestelling bij juweliersWebshop.nl achteraf betalen met een digitale acceptgiro.

Bij JuweliersWebshop.nl, kunt u gebruik maken van Afterpay bij besteding vanaf € 30,--. De kosten voor het gebruik van deze dienst bedraagt slechts € 1,95 per transactie.

Ter goedkeuring van uw verzoek om te betalen met acceptgiro voert AfterPay een gegevenscontrole uit.

AfterPay hanteert eenstrikt privacybeleid zoals omschreven in haar privacy statement

. Mocht onverhoopt uw verzoek tot betaling met acceptgiro niet geautoriseerd worden, dan kunt u natuurlijk het aan te kopen product betalen met een andere betaalmethode.

U kunt bij vragen altijd

contact

met AfterPay opnemen. Voor meer informatie verwijzen wij u naar het consumentendeel van de

AfterPay website

.
- Creditcard
Bij Juwelierswebshop.nl kunt u ook met uw MasterCard of VISA kaart betalen.
Dit gebeurt via een SSL-beveiligde server, die uw creditcardgegevens versleuteld verstuurt.
Uw gegevens worden beveiligd verstuurd en niet opgeslagen!
Voor meer informatie over creditcards.
- Contant
Bij afhalen in Hillegom, ALLEEN op AFSPRAAK ; u betaald contant of per PIN !
Meer informatie vind u in de bevestiging per e-mail.
Afhalen?
Uw bestelling ligt pas voor u klaar om afgehaald te worden wanneer u van Juwelierswebshop.nl per e-mail bericht heeft ontvangen dat uw order is verwerkt en klaar ligt om afgehaald te worden tijdens winkeltijden.
- Mister Cash
Speciaal voor onze klanten uit België.
U kunt snel en veilig de betaling via Telebankieren afhandelen.
- België en Duitsland
Wij verzenden uw bestelling ook naar andere Europese landen zoals België & Duitsland.
Hiervoor vragen wij een bijdrage in de verzendkosten van € 7,50 .
Ook deze bestellingen worden aangetekend en verzekerd verzonden!

Indien u nog vragen mocht hebben over het betaaltraject van Juwelierswebshop.nl, dan kunt u een e-mail sturen naar onze service-afdeling.

 
Ordering from abroad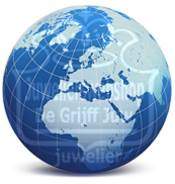 We only ship outside Europe when you pay in advance by bankaccount.
The shipping costs are € 25,- for shipments outside Europe. 
Bank nr: NL15Rabo0300 901 933 
t.n.v. de Grijff - Juwelierswebshop te Zutphen 
Your order or itemnumber: ....

 
If you order a watch from abroad, it is not possible to pay by credit-card or to receive the watch "C.O.D. (Cash On delivery)". We would like to ask you to pay your order in advance on bank account nr: IBAN: NL15Rabo0300901933 from de Grijff - Juwelierswebshop, Zutphen, The Netherlands.
The Swift-Code of the bank for international payments is: RABONL2U. Rabo-Bank, Zutphen, The Netherlands.
After we received your payment, we will sent your order by mail.
To contact us: please use our contact form.