CITIZEN SATELLITE WAVE
Citizen Satellite Wave GPS Promaster Navihawk
De Satellite Wave is een nieuwe techniek van Citizen Watch. Deze Promaster horloges worden aangestuurd door satelliet. De nieuwe Citizen Promaster Satellite Wave met GPS techniek uit de serie Promaster Navihawk lopen overal ter wereld op tijd. Altijd de juiste tijd en datum in combinatie met Eco-Drive. Door gebruik van lichtenergie is een batterijwissel niet nodig.
JuweliersWebshop.nl is officieel Citizen Satellite Wave dealer.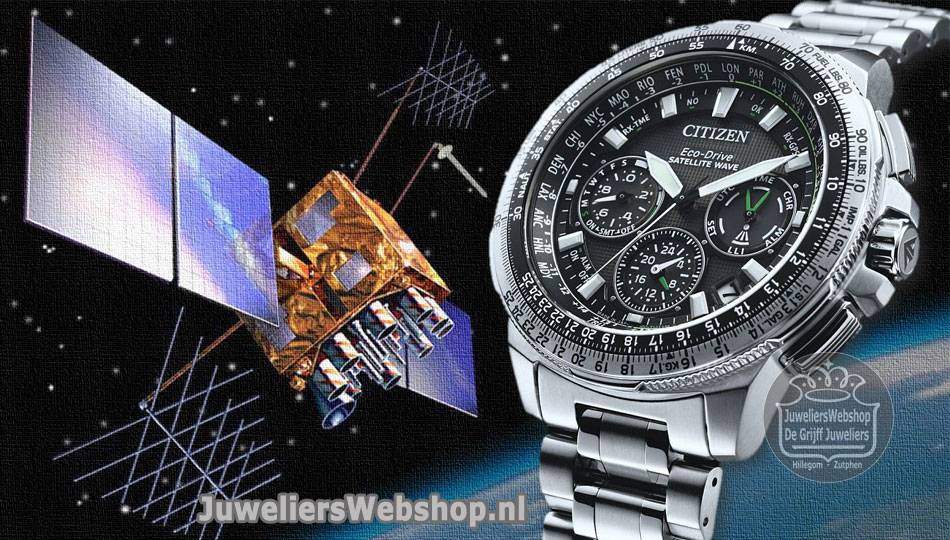 Deze Satellite Wave horloges van Citizen zijn gemaakt van het harde en lichte Titanium en voorzien van anti-reflective saffierglas.
Citizen Satellite Wave GPS Promaster: Klok kijken op een hoger niveau! Wij zijn trots dat JuweliersWebshop.nl deze modellen in de collectie heeft. De Satellite Wave is nu leverbaar. Ervaar het gemak van Satellite Wave en Eco-Drive. De winkelverkoopprijs heeft een mooie prijs en kwaliteitverhouding.
Bestel Citizen Satellite Wave online bij JuweliersWebshop.nl. Wij verzenden verzekerd en aangetekend.
Of kom langs in onze winkel: Juwelier de Grijff - Hillegom - Zutphen
Citizen Eco Drive Satellite Wave Technologie:
De Satellite Wave Eco Drive horloges van Citizen maken gebruik van een combinatie van 2 technieken namelijk: Een innovatief satelliet-gestuurd tijdwaarnemingssysteem, met een extreem verbeterde ontvangstgevoeligheid, en de licht-technologie Eco-Drive (door Citizen gepatenteerd). Niet alleen laat de Eco Drive Satellite Wave horloge, van Citizen, de tijd op een nieuwe manier zien dankzij de signalen van navigatiesatellieten, het is ook een nieuwe stap in de evolutie vanhet oorspronkelijk door licht aangedreven horloge.
Satellietgestuurd tijdwaarnemingssysteem van Eco Drive Satellite Citizen:
De Citizen Satellite Wave Eco Drive horloge ontvangt zijn signalen, via navigatiesatellieten (24 stuks), die op 20.000 km afstand 2 keer per dag rond de aarde draaien. Dit zorgt voor een exacte tijd en datum , die ze zelf van de atoomklok doorkrijgen, naar ontvangers op aarde. De Citizen Eco-Drive Satellite Wave is zo'n ontvanger en kan hierdoor op elke (open) plek op de aarde, zelfs midden op de Stille Oceaan of op de top van Mount Everest, controleren of hetnog exact op tijd loopt. Zo niet? Dan stelt het horloge zichzelf bij. Ook bij het passeren van tijdzones, het veranderen van winter- in zomertijd of het verspringen van de datum van bijvoorbeeld 29 februari naar 1 maart (in een schrikkeljaar) zal het horloge zichzelf aanpassen, zolang de satellieten blijven draaien. En de zon blijft schijnen, want het horloge is voorzien van Citizen's Eco-Drive systeem, dat aan licht als voeding voldoende heeft.
Eco-Drive horlogetechnologie van Citizen:
De door Citizen gepatenteerde horlogetechniek Eco-Drive, waarmee horloges door elke natuurlijke of kunstmatige vorm van licht worden aangedreven. Omdat satellietgestuurde horloges meer energie verbruiken is Citizen erin geslaagd een energiebesparend ontvangstsysteem voor satellietsignalen te creeren. Hierdoor kan het satellietgestuurde tijdwaarnemingssysteem met Eco-Drive aangedreven worden, waarmee het vervangen van batterijen tot het verleden behoort!
Citizen's Wereldtijd:
De functie van "World Time" op de Citizen horloge Eco-Drive Satellite Wave-Air kan de tijd en datum van 26 steden, op de wijzerplaat van het horloge, eenvoudig weergeven. Altijd en overal de exacte tijd en datum.
Bestel Citizen Satellite Wave online bij JuweliersWebshop.nl. Wij verzenden gratis verzekerd en aangetekend.
Bekijk hier een mooie video van deze Citizen Satellite Wave.
Satellite Wave Air Citizen Video op facebook JuweliersWebshop

Op zoek naar een Eco-Drive horloge?