Citizen Smartwatch bluetooth
Citizen Proximity Eco-Drive
Citizen Smartwatch bluetooth horloges. Profiteer nu van 10% korting op Citizen Proximity smartwatches. De horloges van Citizen Proximity in de smartwatch serie hebben de nieuwste Bluetooth techniek in combinatie met Eco-Drive. Deze horloges kun je koppelen met je Iphone of Android smartphone. De voordelen van Citizen Smartwatches zijn ontelbaar: alarm functie, wereldtijden, energieverbruik, en natuurlijk je berichten en telefoontjes. Je merkt aan de trilling van je horloge op je pols of er een bericht binnen komt op je smartphone. Tegelijk hoor je een signaal en zie je op de wijzerplaat dat je een bericht hebt ontvangen.
Bestel Citizen Proximity smartwatch bij officieel dealer JuweliersWebshop
Gratis verzekerde verzending en snel in huis!

Artikel 1 tot 1 (van de 1 artikelen). Resultaat: 1
Citizen BZ1001-86E Proximity Horloge Bluetooth Eco Drive Herenhorloge
1x Direct leverbaar, 1 werkdag
Artikel 1 tot 1 (van de 1 artikelen). Resultaat: 1
Citizen Smartwatch Bluetooth
Citizen Bluetooth Eco-Drive. Citizen is 's werelds eerste horlogemerk waarbij de functie Bluetooth is gecombineerd met SOLAR-power licht-energie. Verbind je smarttelefoon met deze Bluetooth watch en ontvang de notificaties die jij wilt. Bijvoorbeeld Gmail, Twitter, Facebook, SMS, WhatsApp, Instagram enzovoort.
Citizen smartwatch Proximity
Citizen Proximity Eco-Drive Bluetooth smartwatch. Met het gepatenteerde Eco-Drive systeem van Citizen. Het horloge wordt aangedreven door het bekende solar quartz uurwerk, Citizen Eco-Drive. De Citizen Smartwatch Proximity horloges verbruiken meer energie, maar Citizen is er in geslaagd een energiebesparend ontvangstsysteem voor bluetooth te creeëren. Daarnaast beschikt dit horloge over een Bluetooth functie die zowel Android en IOS (Iphone 5+) kan koppelen via de app op je telefoon. Je kunt via je smartphone in de 'Citizen Bluetooth watch'-app eenvoudig de tijd wijzigen of een alarm instellen, maar je hoort een geluid of voelt een trilling zodra je een melding binnen krijgt van bijvoorbeeld inkomende gesprekken, LinkedIn, Facebook, Instagram of WhatsApp. Je kunt per app kiezen of je de notificatie wilt doorsturen naar je Bluetooth horloge.
Citizen, Time to Unplug
De smartwatches van Citizen hebben geen draadjes en opladers nodig! De verbinding gaat via Bluetooth. De smartwatches zijn voorzien van Eco-Drive, deze laden zichzelf op tijdens het dragen door middel van licht-energie. De Citizen smartwatches Eco-Drive hebben solar-power! Time to Unplug! Met de bluetooth connection aan is er voldoende power voor weken.
Citizen smartwatch kopen
Alle Citizen horloges in onze horlogeshop zijn origineel en worden geleverd inclusief originele watch-box, 2 jaar garantie en handleiding. Bestel Citizen Smartwatches bij officieel dealer JuweliersWebshop.nl. De handleiding geeft eenvoudig uitleg over de vele functies. De Citizen app is eenvoudig te koppelen aan je nieuwe Citizen Smartwatch Eco-Drive. Bekijk hiervoor ook de youtube filmpjes.
Bekijk hier de video met de mogelijkheden van Citizen Proximity Bluetooth horloges op Youtube: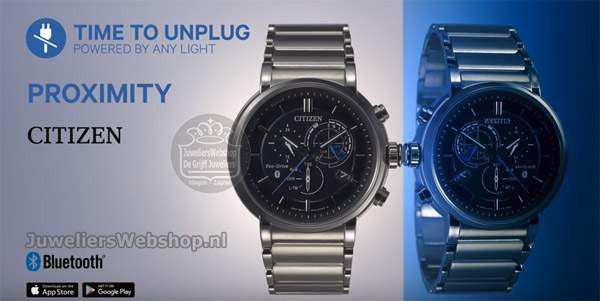 Video Citizen Proximity Smartwatch 2017 op Youtube: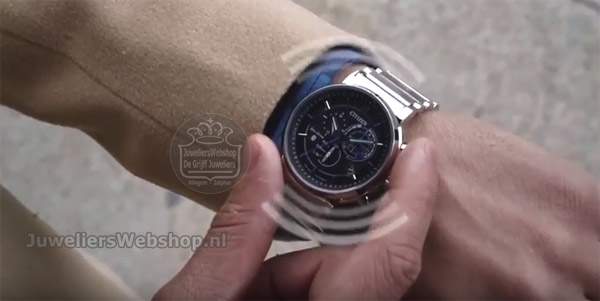 Handleiding ENG Citizen Bluetooth smartwatch manual W770.
Verkorte basis gebruiksaanwijzing NL Citizen W770 smartwatch.
Caliber W770 Functies:
24-Uur aanduiding, 1,5 Jaar power-reserve in het donker, Bluetooth, Dag-alarm, Dag/datum, Eco-Drive aandrijving, Eeuwigdurende kalender, Engergiespaar-functie, Laadindicatie, plaatselijke tijd van 316 steden, Smart-Phone-Funktie, Stopwatch:max. 60Min,1/1 sec.
JuweliersWebshop.nl by Juwelier de Grijff Zutphen
JuweliersWebshop.nl is onderdeel van Juwelier de Grijff Zutphen. Kun je op onze JuweliersWebshop.nl geen keuze maken? Kom dan gezellig langs in onze winkel in de Sprongstraat in het gezellige centrum van Zutphen!