Tommy Hilfiger Smartwatch
TH24/7 bluetooth Fashion Hybrid Tommy Hilfiger horloges
De nieuwe Tommy Hilfiger Smartwatch horloges uit de serie TH24/7 Fashion Hybrid zitten boordevol bluetooth techniek. Een leuke gadget daarbij is dat je de wijzerplaten van de Tommy Hilfiger smartwatches eenvoudig kunt wisselen. Van strak en trendy, met de bekende Tommy kleuren, naar een klassieke stijl met sportieve chronograaf look. De Tommy Hilfiger 24/7 smartwatches hebben een touchscreen, hierdoor is de bediening eenvoudig en zijn alle functies snel bereikbaar.
Tommy Hilfiger smartwatches bij officieel dealer JuweliersWebshop.nl
Bestel online: GRATIS verzekerde verzending. Snel in huis!
Artikel 1 tot 4 (van de 4 artikelen). Resultaat: 1
Artikel 1 tot 4 (van de 4 artikelen). Resultaat: 1
Ontdek nu ook de nieuwe modellen horloges voor dames en heren van Tommy Hilfiger.
Direct naar: Tommy Hilfiger dames horloges - Tommy Hilfiger heren horloges - Tommy Hilfiger smartwatches
Smartwatch functies van Tommy Hilfiger TH24/7
De smartwatch functies van de Tommy Hilfiger TH24/7 zijn bijna oneindig zodra je telefoon is gekoppeld met de app van Android 2.0 of het iOS besturingssysteem van je Iphone. Wat denk je van: tijd, datum, stopwatch, alarm, agenda, hoogtemeter, beller ID, berichtweergave, e-mailindicator, wereldtijd, activity tracker en trilfunctie. Via de app zijn vele meldingen te selecteren voor weergave op je gsm. De koppeling gaat via bluetooth met je Iphone of Android GSM. De oplaadbare accu is zonder stekker oplaadbaar via een apart oplaadsnoer waar je het horloge op legt.
Smartwatch Tommy Hilfiger met digitaal touchscreen
De nieuwste Tommy Hilfiger Smartwatch TH1791405 in zilverkleur met stalen schakelband of liever een leren horlogeband? Kies dan voor model TH1791406. Met deze slimme Tommy herenhorloges met digitaal touchscreen haal je het maximale uit iedere dag! Via bluetooth compatible met Android 2.0 en iOS (Iphone 5+). Bekijk de collectie Tommy Hilfiger 24/7 smartwatches.
Maximaliseer elke dag met Fashion Hybrid 24/7
Analogue meets digital, digital meets fashion. Geef je outfit een boost en mis nooit wat het belangrijkst is. Blijf Fit. Blijf in contact. Blijf op de hoogte. Een smartwatch van Tommy Hilfiger past direct bij jouw stijl. Wissel naar je favoriete wijzerplaat voor jouw look. De serie Fashion Hybrid TH24/7 is er voor jou. Het uiterlijk geeft je eerste indruk, jouw horloge mag daarbij niet ontbreken. Een opvallende stijl, of liever rustig? De verschillende wijzerplaten geven net dat stukje extra. Maak het horloge van jou.
Tommy Hilfiger smartwatches met bluetooth kopen bij officieel dealer
Bestel de mooiste TOMMY HILFIGER smartwatch dameshorloges en herenhorloges eenvoudig, veilig en vertrouwd online.
Heb je je horloge snel nodig? Bestel op werkdagen voor 17.00 uur en we verzenden het TOMMY HILFIGER horloge nog dezelfde dag naar je toe! JuweliersWebshop.nl is officieel dealer van het merk TOMMY HILFIGER en voorziet ieder nieuw horloge van een origineel garantiecertificaat. De fabrieksgarantie geeft recht op 24 maanden draagplezier. Heb je vragen? Neem dan contact op met onze klantenservice.
Juwelierswebshop.nl is officieel dealer Tommy Hilfiger herenhorloges - Tommy Hilfiger watches online.
Tommy Hilfiger horloges voor heren. GRATIS verzekerde verzending in Nederland bij JuweliersWebshop.
Bekijk hier de video over Tommy Hilfiger smartwatches: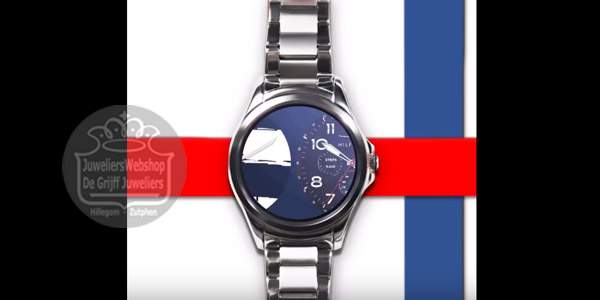 Bekijk de collectie Tommy Hilfiger dameshorloges en herenhorloges bij officieel verkooppunt JuweliersWebshop.nl.