Citizen ALTICHRON Promaster
De
Citizen Altichron Promaster
is de alleskunner en topmodel van Citizen en uiteraard voorzien van Citizen's bijzondere Eco-Drive technologie en voorzien van een Titanium kast. De Altichron zit daarnaast vol met innovaties, zoals een elektronisch kompas en een hoogtemeter, die gevoed wordt door een zeer gevoelig en ultra-precieze sensor. Zo werkt de hoogtemeter tot op een diepte van 300 meter onder zeeniveau en tot op een hoogte van maar liefst 10.000 meter erboven! Theoretisch gezien: Overal op aarde te gebruiken.
Citizen Altichron design
De basis functie van de Citizen Altichron horloge is natuurlijk de tijd, die wordt aanngegeven door de grote witte centrale wijzers. De Hoogte en Richting, via het kompas, kunnen met een druk op de knop door de opvallende gele en oranje wijzers worden aangewezen. Citizen heeft de wijzers en indexen voorzien van een speciale lichtgevende pasta, voor een ultieme afleesbaarheid onder alle omstandigheden. Ook qua design heeft Citizen weer een uniek horloge gecreëerd en is het gebaseerd op de ronding van de Aardhorizon gezien vanuit de hoogste regionen van de atmosfeer.
Citizen Titanium Altichron
De Citizen Altichron Eco-Drive is er in drie varianten: De Altichron BN4021-02E, met een Titanium kast, de Altichron BN-4026-09E (met gele accenten) en BN4026-09F (met oranje accenten) allebei voorzien van een Titanium kast met een zwarte carbon Coating. Titanium is Super sterk en Ultra licht en zorgt dus voor een fijn draagcomfort en is Anti-Allergisch. Kortom: De Citizen ALTICHRON is de Off-Road alleskunner onder Extreme omstandigheden !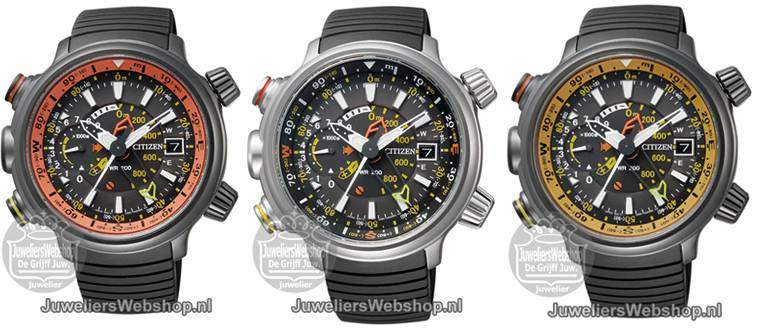 JuweliersWebshop.nl is Citizen Eco-Drive specialist. Wij hebben de Citizen Altichron horloges snel leverbaar!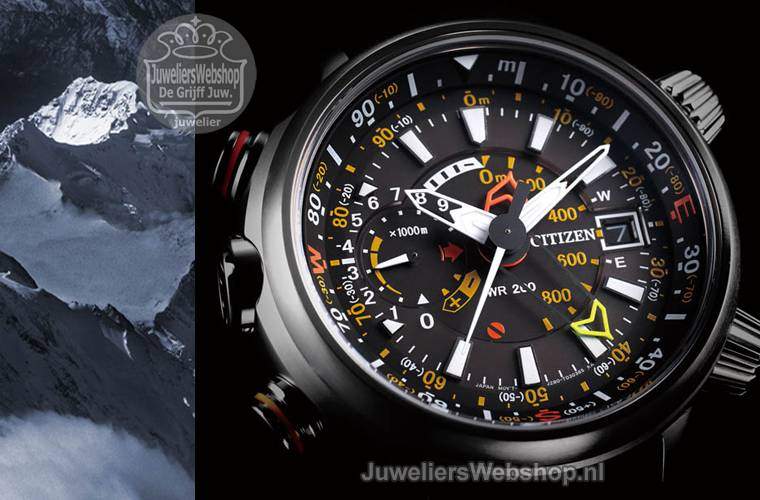 Altichron Altimeter
Van 10.000 meter de hoogte - Voorbij het hoogste punt van de planeet...
In overeenstemming met de International Standard Atmosphere die officieel gepubliceerd is door het International Civil Aviation Organisation (ICAO).
Uitgerust met een analoog display, metingen tot 10.000 meter hoog en tot -300 meter diep onder de zeespiegel !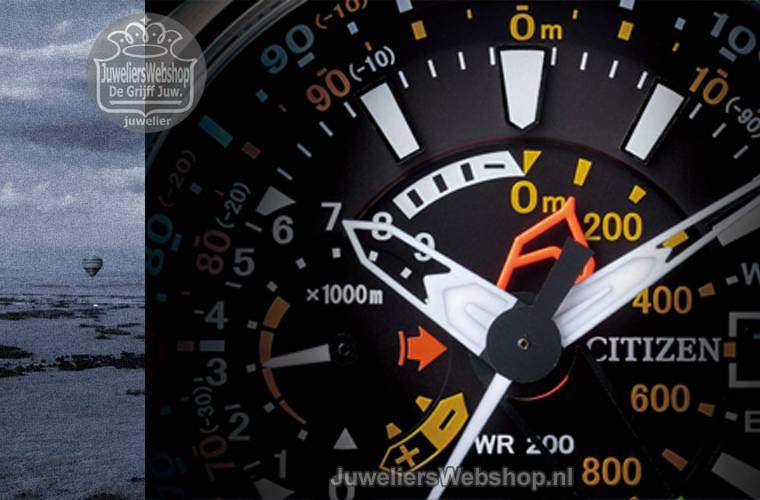 Altichron Electronisch Kompas
Eco-Drive ALTICHRON heeft een ingebouwd magneetsensor. De kompas functie wordt niet alleen aangegeven samen met de tijd, maar zelfs tijdens een meting van de hoogte, met een simpele druk op een knop! Altijd de juiste richting met een Altichron.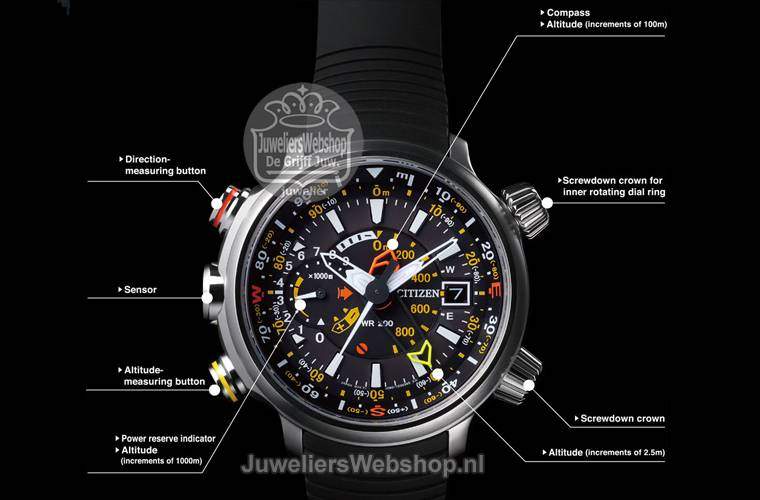 Mooie video bekijken van de Citizen Altichron?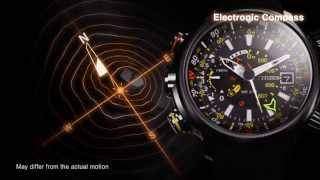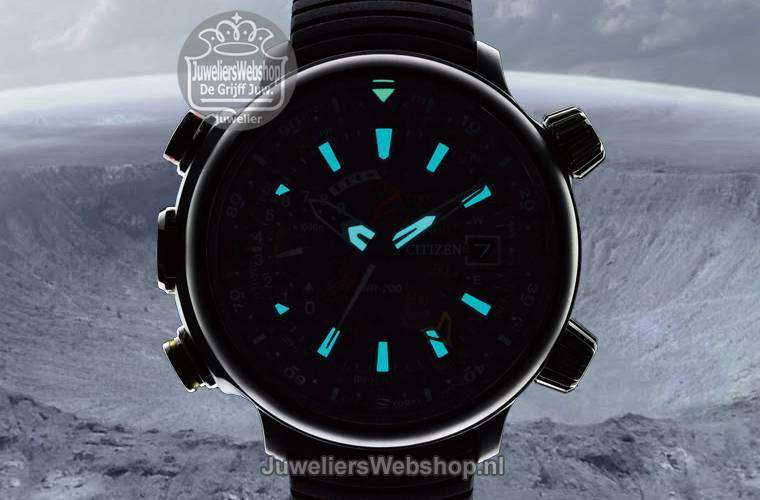 Citizen Altichron
In to the Dark. De Altichron horloges hebben ook in het donker een duidelijke wijzerplaat.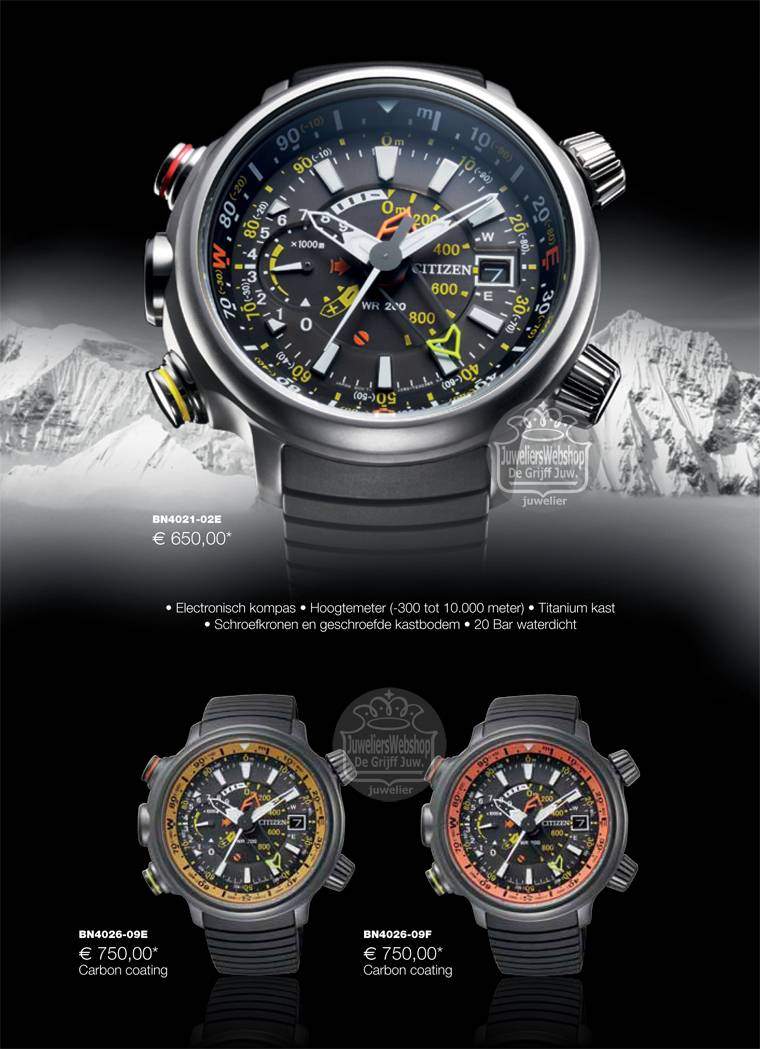 Citizen horloges Altichron
Bekijk online de complete collectie horloges Citizen Eco-Drive bij JuweliersWebshop.nl