Casio Gravity Defier
Casio G-Shock G-Premium en Gravity Master horloge Collectie
De Casio Gravity Defier en Gravity Master G-Premium horloges zijn gemaakt voor extreme omstandigheden en kunnen iedere uitdaging aan. Voor deze krachtpatser heeft Casio Watches Japan gebruik gemaakt van exclusieve materialen die hoogwaardig zijn afgewerkt in een stoer ontwerp: G-Shock G-Premium en GravityMaster serie voor iedereen die zich wil onderscheiden. Hypermoderne functies zoals radiosignaalontvangst, werking op zonnecellen en neo-display zorgen ervoor dat deze chronometers in het oog springen! Bekijk de top modellen met onverwoestbare G-Shock horlogekasten. Gewelige G-Shocks!
G-Shock Gravity Defier bestel je bij Juwelierswebshop.nl is officieel Casio G-Shock Gravity Defier dealer.
Casio horloges G-Premium - Scherpe prijzen - Gratis verzekerde verzending in Nederland !
Casio G-Shock G-PREMIUM Collectie GA-1000 serie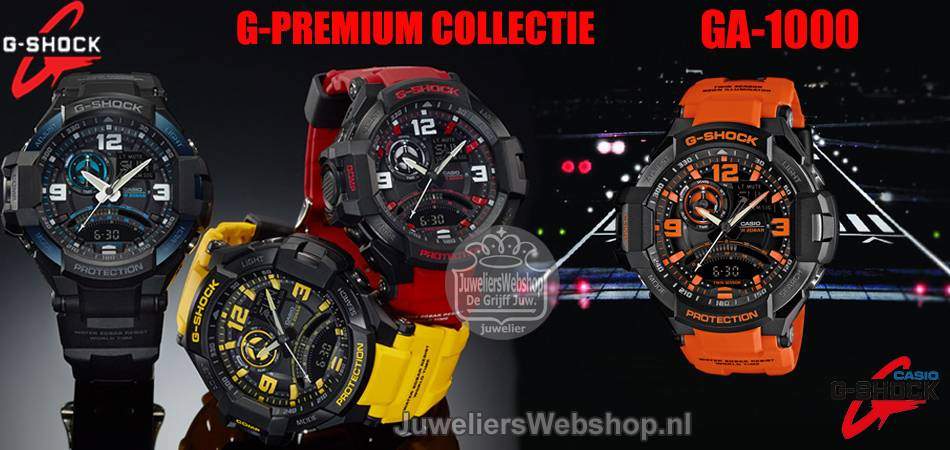 Casio G-Shock MT-G Limited Edition uit de G-Master serie met edelstalen kast en band. De TOP modellen van GSHOCK.


Casio horloges G-Shock Gravity Defier
G-Shock horloges met het Triple G Resist systeem; Magnetische afscherming, vibratiebestendig, bestand tegen schokken en middelpuntvliegende krachten, oftewel G-krachten. Zonder batterij door Solar Powered energie en natuurlijk altijd de juiste radio-controlled tijd.
G-Shock Gravity Defier Pilot Aviation
De G-Shock Aviation is leverbaar in een speciale serie PILOT modellen. Deze G-Shock piloten horloges zin super! Met de G-Shock Pilot modellen is Casio G-Shock weer uitgebreid met een nieuwe lijn top horloges. De pilot horloges van G-Shock Aviation zijn ontworpen voor de meeste extreme omstandigheden en hebben bijvoorbeeld een hoogtemeter, kompas of thermometer.
G-SHOCK NIEUWS :
G-SHOCK werkt samen met het Apache Demo Team en het F-16 Demo Team van de Koninklijke Luchtmacht!
Casio Gravity Defier of G-SHOCK GravityMaster is Zorgeloos genieten! Op de grond, in het water of in de lucht!
Bekijk hier alle CASIO horloges online bij JuweliersWebshop.nl
G-Shock - Edifice - Aviation - Grafity Defier - G-Premium - Pro Trek